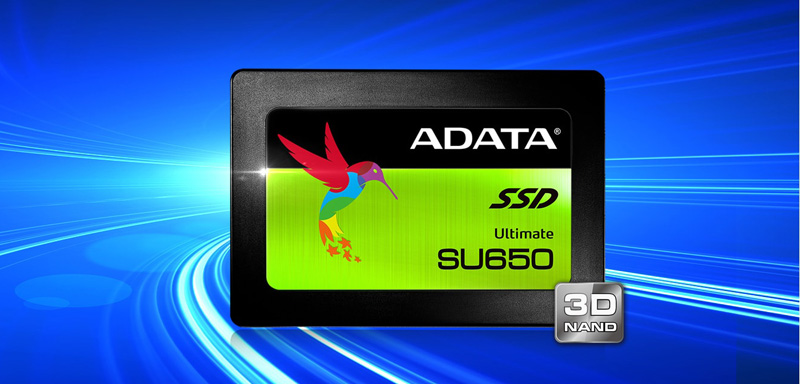 ULTIMATE SU650 SOLID STATE DRIVE
3D NAND SSD That Has a Great Cost-performance Ratio
Crush storage bottleneck with the ADATA Ultimate SU650 SSD, which implements 3D NAND Flash and a high speed controller, offering capacities up to 480GB. A great choice for notebooks, Ultrabooks and desktops, this drive comes in 7mm height and includes a 2.5mm spacer. The SU650 features SLC caching and advanced error correction technologies to ensure optimized data performance and integrity. And with the SSD inborn properties including low power usage, zero noise emission and superb shock resistance, all at a great value, the ADATA Ultimate SU650 is your second-to-none choice for your new build or system upgrade.

3D NAND in an Easy PC Upgrade
With 3D NAND Flash, the SU650 features higher efficiency and increased reliability compared to 2D NAND SSDs with an improved cost-performance ratio.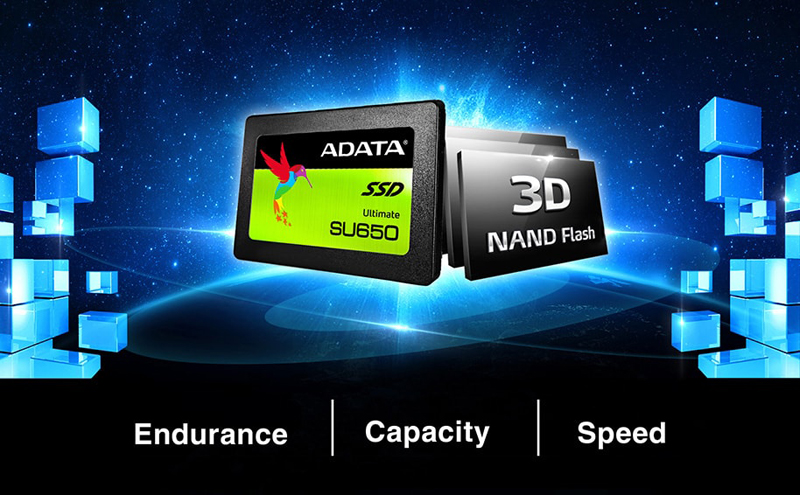 Learn more about the
ADATA ASU650SS-240GT-C
Faster Performance
The intelligent SLC caching algorithm allows NAND Flash memory to operate in single-level cell mode and boosts performance, helping sustain peak SU650 read/write speeds up to 520/450MB* per second for smoother and faster boot, file transfers, and downloads.
* Theoretical maximum performance. Actual performance may vary due to available SSD capacity, system hardware and software components, and other factors.
Advanced Error Correction Code
With the support for ECC (error correction code) technology, the SU650 can detect and fix errors to ensure data integrity and help to extend SSD lifespan. Its MTBF (mean time between failures) is up to 2 million hours, or 25% more than 2D NAND SSDs.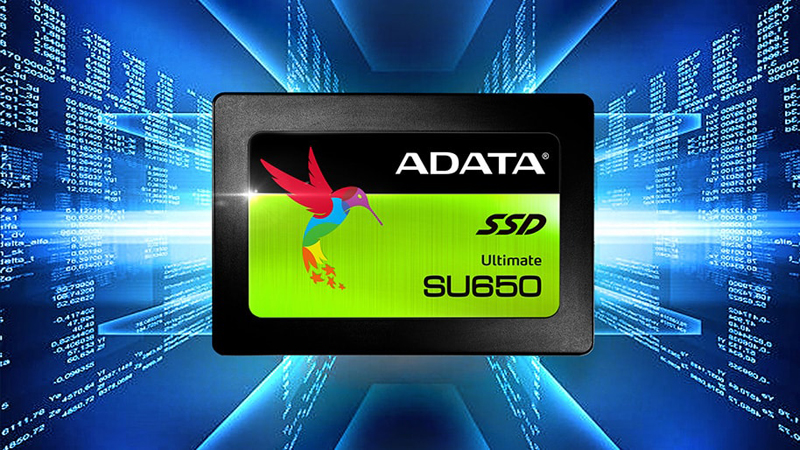 Tougher, Quieter, and More Reliable
There's no mechanical component inside SSDs, so they outperform traditional HDDs with higher resistance to shock, vibration (1500G/0.5ms) and extreme temperatures (0°C-70°C). They are also completely silent and consume very little power, all while better protecting your data.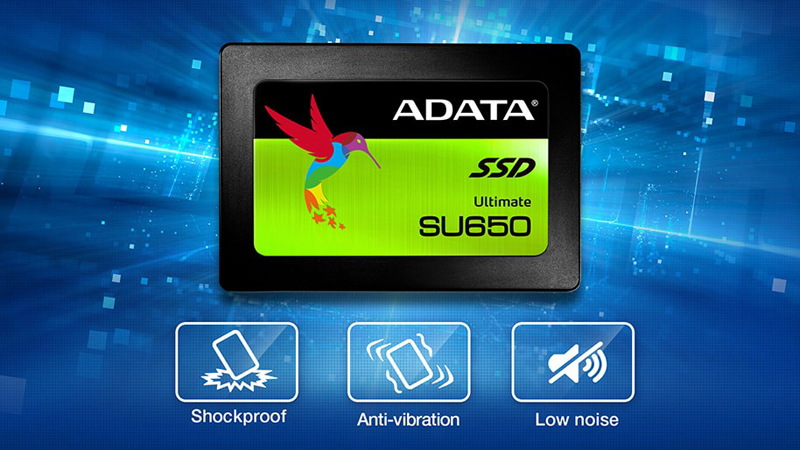 Exclusive Software - SSD Toolbox and Migration Utility
Every SU650 purchase qualifies for free downloads of ADATA SSD Toolbox and Migration Utility. SSD Toolbox allows users to monitor and manage the SU650, with drive status, wear level, and lifespan information. The Migration Utility is especially helpful for users making the move from HDD to SSD, as it is designed for simple and quick backup and migration of the contents of entire drives, including the operating system.
ADATA SU650 480GB 3D-NAND 2.5" SATA III High Speed Read up to 520MB/s Internal Solid State Drive
Product Code: ASU650SS-480GT-C
Availability: In Stock
Tags: ASU650SS-240GT-C